LSB Debit Cards
With our Lyndon State Bank Debit Cards you can enjoy a whole new level of banking and shopping conveniences. Now you can pay for your purchases without cash, it's as simple as using a credit card, but works like a check. You will sign a sales slip just like a credit card; you do not need to enter a PIN. The purchase amount is deducted from available funds in your Lyndon State Bank checking account and recorded on your monthly statement. 
Pay for purchases anywhere you see the VISA symbol; department stores, restaurants, supermarkets, hotels, gas stations and more. It is safer than carrying cash and easier than writing checks.
At ATMs use your Debit Card just as you would any ATM card. You will be able to access the checking and/or savings accounts you designate on your application.
There are no fees when you make a Debit Card purchase. However, ATM transactions may be assessed a fee if made somewhere other than a Lyndon State Bank ATM.
Help your school with the Lyndon State Bank School Pride Debit Card! Show your school spirit by carrying a Lyndon Tiger, MdCV Trojan, Osage City Indians or Topeka West Charger card. Every time you swipe your card and sign for purchases your school will benefit.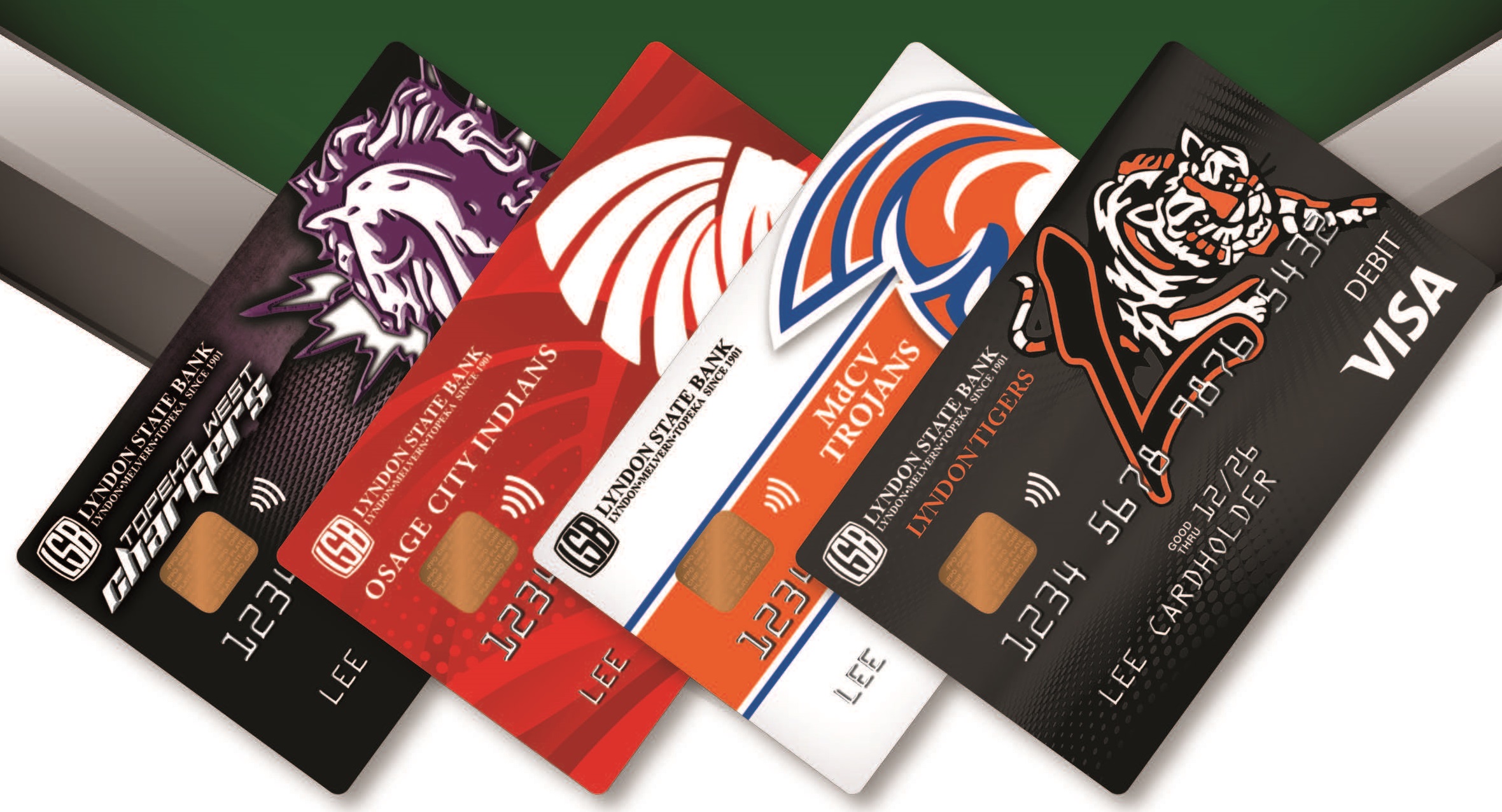 To start enjoying Debit Card banking and shopping convenience call 785-828-4411 today!
VISA Credit Card
Your VISA Platinum card has amazing advantages that cardholders are looking for. In a recent comparison of the top four premium credit cards in your market, no other card even comes close in features and benefits.
Platinum cards offer:
ScoreCard Rewards – As a Platinum Preferred cardholder, customers receive Rewards Points every time they use their card for purchases. Rewards Points can be redeemed for merchandise or travel, including airline tickets, cruises and more.
Concierge Service – Platinum Preferred cardholders can enjoy privileges and conveniences like arranging a dinner, planning a golf outing or obtaining tickets to a special event, just by dialing a number.
Travel Accident Insurance of up to one million dollars.

No fees for balance transfers and the rate is the same as for purchases!

Lower fees and in most cases, no fees

Longer grace period

Platinum has its privileges
BUSINESS CUSTOMERS CLICK HERE